Creating the right environment for the realisation of benefits is mission critical to every organisation.
Shaping and developing a profitable business, and making it sustainable requires fully effective change framework.
Verdandi's framework is an innovative and proven blueprint that will transform your current capability, create a dynamic change culture, and quickly accelerate you along the road to success.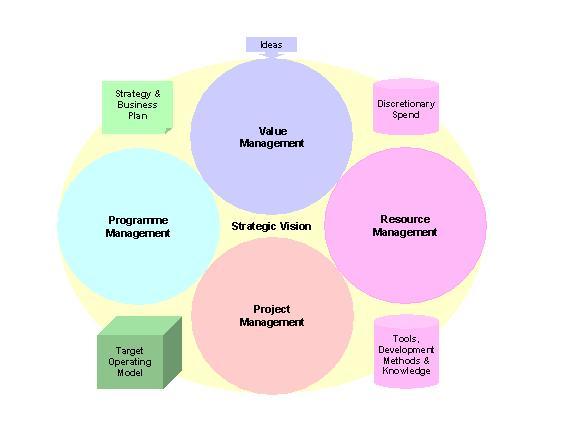 Benefits

Clarity of vision
Reduced wasted investment
Reduced cost
Improved control
Better utilisation of available resources
Reduced risk to benefit realisation

What is it?
An end-to-end system of methods, principles, roles, processes, tools and techniques delivered in five models:

Strategy Acceleration closes the gap between strategy and delivery by communicating the delta between where you are now and where you need to be
Value Management quickly evaluates ideas, avoids wasteful investments and realises planned benefits
Resource Management enables more to be accomplished with the available resources
Programme Management drives strategic change to realise benefits earlier
Successful Project Management delivers projects faster and cheaper, enabling benefits with less risk.

Developed over 25 years in challenging business environments, it's our way of transferring knowledge and know-how to your organisation.

Each process is individually mapped and includes 'How we do things around here' guides - backed by a common glossary and comprehensive learning programme.

Scaleable to any size organisation, the required roles and processes will nest comfortably within your organisation design.

What we do

Verdandi customise the framework to your organisation's needs, implementing it module by module to blend with your way of doing business.

The methodologies, tools artefacts and processes are priced into the assignment.

UK organisations that use all or part of the framework for their corporate standard include:

Aviva UK Health
Autowindscreens
Bank of England
Barclaycard
Cleveland Constabulary
Co-operative Group
Dawson Holdings
Hyundai Motors
Kedge Capital
Legal & General
Mortgage Express
Northern Constabulary
Praemium
RAC Group
Royal & Sun Alliance
TSB Group

What our clients say…

"I would like to remind you about the important role that this will play in the achievement of our aims and objectives for the company over the coming years. We have brought together the best project management methodologies from the bank and the insurance company - and the best practices from industry at large. I am convinced that the more we use it, the more successful we will be in delivering the challenging projects we face in making the combined business a reality".
Chief Executive, UK Financial Services Group

"Our story is an unusual one. After being threatened with extinction, a focus on project management and total quality has enabled a tremendous turnaround. The project methodology and environment has been a key mechanism in delivering major change within the organisation. It has enabled people in the business to take ownership for the definition and delivery of major changes. This has delivered the financial turnaround and the transformation of the company."
Director of Business Systems, Financial Services Organisation and subsequent winners of the EFQM UK Quality Award

br> < back